We came across an article about the anti-ageing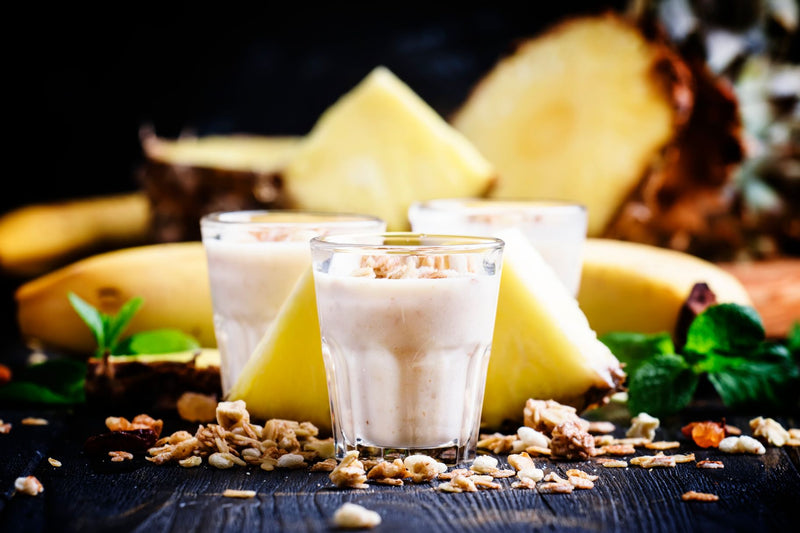 We came across an article about the anti-ageing effects of collagen supplement on BBC Food and thought we should share…..  "some studies support the effectiveness of eating hydrolysed collagen on improving hallmarks of skin ageing by inducing collagen production, improving skin elasticity and increasing hydration and collagen density in the skin".
Here at Collagen Theory, we are innovative and we love our smoothies! So now we know all about the skin loving benefits of Collagen, we present to you … drum roll…. The delicious Pina Cola-gen Smoothie. Get it? We knew you would.
We though this would be a great way to super-charge your mornings or refuel after exercise or treat yourself. Whatever your reason, we know you will enjoy our delicious recipe. With a prep time of only 5 mins, what's not to like?.
You will need:
2 scoops of your choice of Collagen Theory's unflavoured powder collagen (hyperlink this to "Shop all" Page please)
1/2 fresh banana or frozen banana chunks
1/2 cup of fresh pineapple or frozen pineapple chunks
1/2 cup pineapple juice or pina colada juice
1/3 cup coconut milk
1/4 cup of Granola (optional) for that extra breakfast feeling
A handful of ice (optional)
Enthusiasm (we know you have lots of that!)
Ready, steady, blend …
Mix all ingredients together in blender and enjoy.
GET INVOLVED!!!
Feeling bold and adventurous?? Why not follow and tag us on Instagram @collagentheory with a picture of your nutritious Pina Cola-gen smoothie for a chance to win a set of our premium products. Winners will be picked at random and announced at the end of the month on our Instagram page.
We Come Highly Recommended
Collagen theory is the only Collagen product that contains green tea, grape seed and aloe vera which is great for my skin and my weight loss goals. I noticed a more radiant glow to my skin after just 2 weeks! Highly recommended!

Katherine
Collagen theory's products are now part of my beauty/fitness ritual and it is a less invasive and less expensive alternative to expensive Collagen fillers that do not last! I use a combination of Collagen theory quality products to achieve and maintain my beauty and fitness goals. The results are amazing!

Olivia
I have been using Collagen for just over a year now before a friend recommended Collagen theory's products. I find that is far more superior than all the other products I have tried in terms of overall skin and health benefits. I am happy to join the Collagen Theory Family.

Jen
I got Collagen theory SYNERGY for my gran after trying their product myself and seeing great results. She is very pleased and tells me it helped her Joint aches. I don't suffer with joint aches myself, but I do get bloated and I feel this has helped as well as great skin, hair and nails. They are also fairly priced.

Carly
Collagen Theory is my go-to for post workout clean protein supplement. I like that it is all natural, and even the liquid is sugar free. I feel fuller in the mornings when I supplement my porridge with Collagen Theory.

Chris