Nutrients that increase collagen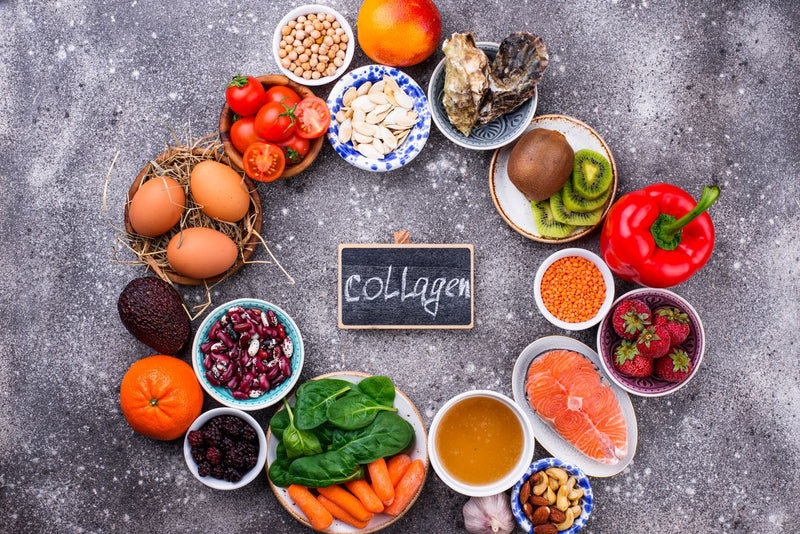 Now you're thinking "hmmm. That collagen stuff sounds pretty important. How can I get some?". Don't worry! We're getting to the good part ;)
There are a few nutrients that can help increase collagen production. While they're cool, nothing can beat a good, high-quality collagen supplement. But we'll get to that later.
Vitamin C. EAT YOUR CITRUS
Proline. EAT YOUR EGGS
Glycine. EAT YOUR MEAT
Copper. EAT SOME SESAME SEEDS OR LENTILS
Simple. Increase these foods groups in your diet and you'll increase your body's natural ability to produce collagen. Now, while increasing your natural output of collagen, for most of us, this simply won't be enough for our skin, joints, etc.
HIGH QUALITY COLLAGEN SUPPLEMENTS (link to website)
Because of the enormous amount of research being conducted, we know more about collagen supplements today than almost any other kind of supplements. That's because the results of the research have been overwhelmingly positive.
There are 3 MAIN benefits to collagen supplementation that have been discovered. Of course, there are tons more (it's one of the building blocks of every system in our bodies), but here we'll focus on the major ones.
INCREASES MUSCLE MASS - I'm a writer. I'm also a fitness junkie. But I know what sitting at a computer screen clickity-clacking on my keyboard all day does to my body. I can see it and feel it. Everyday, as I grow older, my muscle mass is getting smaller and smaller. It's inevitable, especially for those of us who work at a desk all day. Collagen supplementation, combined with strength training exercise, has been shown to increase muscle mass. That means more structure to hold up your frame. That means less risk of injury.
Look better, feel better.
COLLAGEN FOR ARTHRITIS - Studies have demonstrated that collagen decrease plays a vital role in the degenerative nature of arthritis. This has led researchers to believe that collagen supplementation can actually help alleviate, or potentially even reverse, the symptoms of arthritis by bolstering connective tissues and joints with fresh, healthy collagen. Might be a good Christmas, Birthday or an "I appreciate you" gift for Grandma?
HEALTHIER, YOUNGER SKIN - Collagen is one of the most important factors for the health of your skin. As we mentioned above, decreases in collagen production of the body lead to less elastic, older looking skin. Studies have shown that taking collagen supplements increases the youthful appearance of skin, reduces wrinkles, and minimises fine lines.
WHICH COLLAGEN SUPPLEMENTS ARE RIGHT FOR YOU?
All supplementation of high-quality collagen is going to benefit you. However, there are 4 major types of collagen (link to science page that shows benefits of collagen with the video). Each one of these types of collagen has specific properties that carry specific benefits.
There are also different forms of collagen. There are powders, liquid, and even CREAMERS FOR YOUR COFFEE (link to our SHOP …ALL page). Whatever way you take it, just make sure you take it.
We Come Highly Recommended
Collagen theory is the only Collagen product that contains green tea, grape seed and aloe vera which is great for my skin and my weight loss goals. I noticed a more radiant glow to my skin after just 2 weeks! Highly recommended!

Katherine
Collagen theory's products are now part of my beauty/fitness ritual and it is a less invasive and less expensive alternative to expensive Collagen fillers that do not last! I use a combination of Collagen theory quality products to achieve and maintain my beauty and fitness goals. The results are amazing!

Olivia
I have been using Collagen for just over a year now before a friend recommended Collagen theory's products. I find that is far more superior than all the other products I have tried in terms of overall skin and health benefits. I am happy to join the Collagen Theory Family.

Jen
I got Collagen theory SYNERGY for my gran after trying their product myself and seeing great results. She is very pleased and tells me it helped her Joint aches. I don't suffer with joint aches myself, but I do get bloated and I feel this has helped as well as great skin, hair and nails. They are also fairly priced.

Carly
Collagen Theory is my go-to for post workout clean protein supplement. I like that it is all natural, and even the liquid is sugar free. I feel fuller in the mornings when I supplement my porridge with Collagen Theory.

Chris